Christine Jacobs says it is Northern California's cool and breezy climate that makes Pebble Beach her favorite place to play in the spring. The CEO of the Theragenics Corp., a $50 million company that manufactures and distributes a device used to treat prostate cancer, golfs mostly in the Atlanta area, which is where her company is based. "But the South can be really hot and sticky, even in the spring," says the 21-handicapper, who took up the game when she graduated from college in 1971 and only recently began teeing it up again on a regular basis. "So I like to go to Pebble Beach because you often have some wind there and need to wear a sweater. I adore playing golf when I don't feel like I am in an oven.
The CEO also believes course conditions in the spring are better than in any other season. "Things are just coming into their full beauty," points out Jacobs, who actually gave up the game for a while when a country club in her hometown of Columbus, Ohio, would not let her join as a senior member when she was 30 because she was a single woman. Jacobs, now 60, picked up the sport again five years later when her boss learned that she had played and thought it would be a good tool for her as a salesperson. That advice paid off, and Jacobs still manages to mesh golf and business a few times a month.
Pebble Beach is the site of her best birdie, and one sunk over business. "It was the fifth hole, a little over 150 yards for me, with my five-wood," she recalls. It landed about three inches from the cup. My two partners had very bipolar reactions. One was the CEO of a health care company, and he thought it was fabulous. But the other guy, who was a managing director for an investment banking firm, just went, 'Oh.' It was like he was worried he was going to lose money on the round if I kept playing that way. I mean, it was a perfect shot, and he did not say anything else."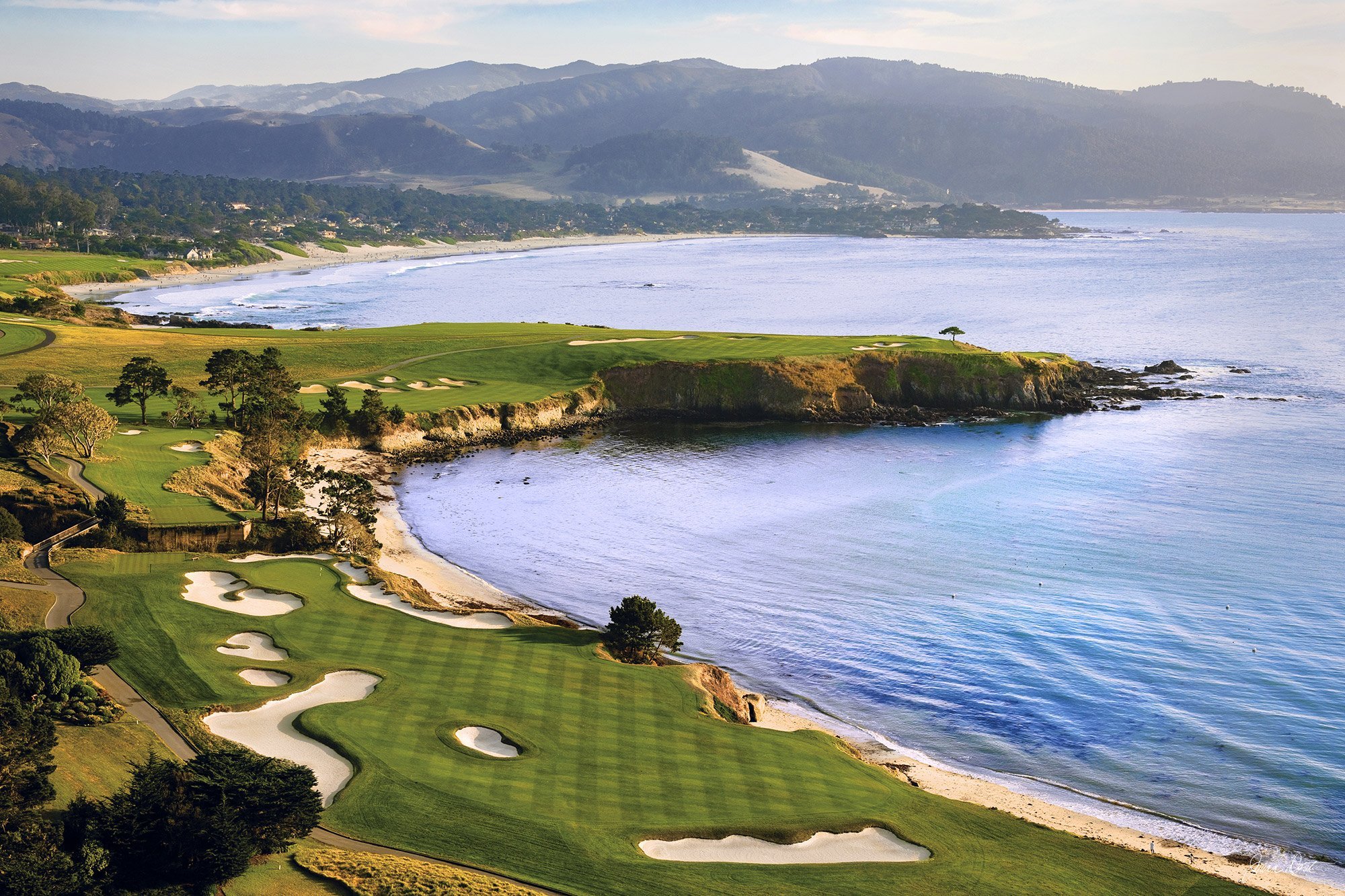 The Monterey Peninsula in the spring also beckons Paul Caruso, a 10-handicapper, who is president of the First Security Bank of Helena, Mont. He is drawn to the region's sheer preponderance of great golf courses – especially its best-kept secrets.
A Caruso favorite is Spyglass Hill, a Robert Trent Jones course that was built in the mid-l960s, offers great holes on the water and is known as one of Northern California's toughest tracks. It's not nearly as recognized as it should be because of its proximity to two of the region's most famous courses — Pebble Beach and Cypress Point, says Caruso, 50, who also likes the nearby Pacific Grove Municipal Golf Links in Pacific Grove and the Bayonet Golf Course in Seaside. "The routings are so nice. Many of them start in the trees, then go to the ocean and then come back home," says the United States Golf Association's executive committee member, who usually makes it to Monterey twice a year.
Bobby Bowden, meanwhile, doesn't get anywhere near California courses in the spring. But the head coach of the Florida State University Seminole football team and de facto CEO of one of history's most successful college sports program still enjoys playing golf that time of year. "It is the only time of year I get to play," admits Bowden, who celebrated 25 seasons at FSU in 2001. "We start to get ready for football in July, and with bowl games, we stay at it through the winter. So it isn't until March that I start to tee it up, and I play pretty hard until it's time for football again."
Most of the playing Bowden does is for the Florida State athletic program–which puts on approximately 25 Seminole booster dinners and golf tournaments each year, all within a 45-day span in the spring. Usually, his partners are football fans, including the occasional top executive who contributed money to play with the coach.
Bowden enjoys golf because it gets him into the fresh air and away from the phone, so nothing ticks him off more than playing with someone carrying a cell phone. "Invariably, whenever the phone rings, the person says, 'Hey, you're not going to believe who I am playing with.' Then they pass the phone to me, and I have to speak to his wife or buddy. I can't do anything about it, because they have paid good money to play with me. But I find it so irritating," Bowden gripes.
The de facto CEO has hit the links with a wide range of golfers. "I remember one guy, a car dealer, who had donated a car to one of the tournaments for anyone who got a hole-in-one on a particular hole. He ended up being the one who got the hole-in-one. So he won his own car. We laughed about that for days."
Bowden says it's tough to pick a favorite course because he plays so many each spring. He likes the layout of the Florida State University golf course in Tallahassee, but when forced to choose, he picks the Don A. Hawkins Golf Course in Birmingham, Ala. "I grew up maybe eight blocks from that course, and it was where I learned to play the game after I finished college. I played it probably more than anywhere else," says Bowden, who usually heads there when he returns to Birmingham.
The 72-year-old coach, who has an almost unparalleled record when it comes to producing winners on the field, finds his prowess on the golf course another story. "I start off the year trying very hard to break 100. Then by the end of July, I am down to the low- to mid-8 Os. I am getting so old that I cannot hit my drives anywhere anymore. But that doesn't keep me from enjoying myself out on the golf course."
But only in the spring.